Dynair Ecology Unit is an efficient & economical solution to exhaust contaminated air from kitchen hood. They are suitable for conveying kitchen exhaust air. The removal of grease from the exhaust air flow is a very important part of commercial kitchen operation.
If there is no proper grease trap at kitchen hood it could:
1. Increase fire hazard at exhaust duct.
2. Increase the frequency of expensive duct cleaning.
3. Create bad odor in or near the restaurant surroundings.
4. Increase the collection of grease on the roof top which could cause deterioration of roof material (Filter Bank).
These problems can be greatly reduced through the use of proper grease trap device at kitchen hood itself.
For more information on Dynair Ecology Units, Please Download Catalogue Here!
Fan Section
DEV series are with DIDW,fan which allows obtaining two orientations (0° & b 90°) with the same fan.
The key features associated with DEV:
AMCA certified fan for air and sound
Powder coated casing, suitable for outdoor installation
Backward curved impellers are made of cold-rolled sheet steel
Statically & dynamically balanced
Fan & motor assembly mounted on a common base frame and isolated from the main structure by anti vibration mounts and flexible joint on inlet and outlet (optional)
DIDW backward curved type fan (SISW Optional)
Standard accessories with inspection door & drain plug for periodic maintenance
Powder coated impeller, (non-sticky)
Construction
Filter section: Pentapost design & have strong three way angle joints of reinforced nylon corners to form a rigid frame structure. Rigid frame work comprises an assembly of externally chamfered extruded aluminium profile & nylon corner joints.
Inner & outer skin: Standard pre-coated Gl sheet, the double skin is to retain the insulation surface clean & to have a smooth surface.
Asynchronous three-phase motors according to international standards IEC 60034,IEC 60072,EMC2004/108/CE, LVD2006/95/CE, CE marked, IP55, class F, suitable to S1 service (continuous working at constant load).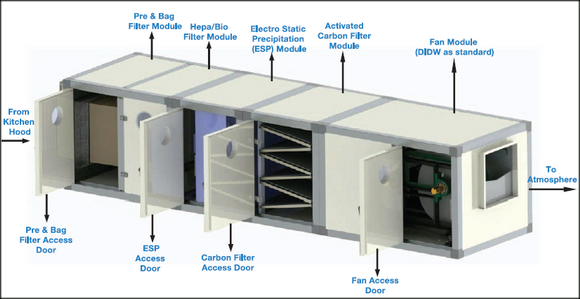 Note: HEPA or ESP proposal based on project requirements.
Optional Features
Spray system works by producing a fine atomized mist that is delivered through strategically placed nozzles in the stack, which actively reduces odor, neutralizing it before it leaves the stack.
UV filtration – UVC in DEV are another option in odor & grease control, the most effective method common today for eliminating unpleasant odors , grease & oil mist from kitchen hood.
Ecology Unit Selection Software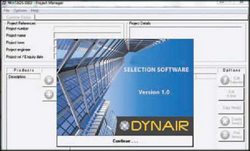 DYNAIR's Ecology Unit selection software provides the complete details of design and submittal generated for the Ecology Units. The system is integrated so as to eliminate wherever possible the re-entry of information and thereby minimise data entiy errors. The program is user-friendly and maintained wherever practical for the customers. The software intelligently selects the optimum requirement of Ecology Units from our standard database and selects the optimum selection as per the customers' specifications. The software will carry out the calculations and generate sufficient information to have options available within the program.